Meridian Lawyers announced this week that it has appointed Penny Evans as a Principal to the firm's Sydney property and commercial practice. Penny joins Meridian from Tresscox where she spent 22 years as a Partner in the property practice. She will be accompanied by lawyers Zile Yu and Annelise Morgan. In addition Laura Forsyth, Special Counsel will re-join Penny's team having been working with a church organisation as their Senior Legal Counsel since April 2017.
Meridian's Managing Principal, Paul Baker says "These appointments reflect Meridian's growing commercial and property practices. Penny and her team bring to Meridian extensive experience in property law, particularly in the field of commercial and industrial landlord leasing.  We are thrilled to have another group of high calibre lawyers join our growing and successful team."
"These  appointments are an important step in the expansion of our property and commercial leasing  team. Penny is one of the most highly regarded commercial property leasing lawyers in the market so to have her team join us is an outstanding development for Meridian" Mr Baker said.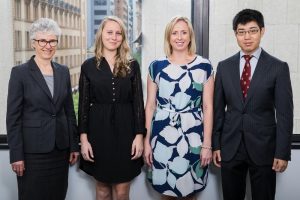 Penny has been recognised in Best Lawyers® Australia for Real Property in 2016, 2017 and 2018, and included in the 2018 Asia Pacific Legal 500 for Real Estate.
This announcement follows news last week that the Meridian has recruited leading insurance lawyers Andrew Sharpe and Mark Birbeck, the latter will be leading the new Meridian office in Perth.
For further information, please contact Paul Baker, Managing Principal. 
Meridian Lawyers provides focused legal advice in insurance law, health law, corporate and commercial law, employment law and commercial litigation and dispute resolution. The firm is an incorporated law practice, with offices in Sydney, Newcastle, Melbourne, Brisbane and Perth.